An intense two-day program with instruction from seasoned professionals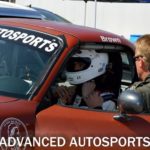 The lost art of downshifting an H- pattern gearbox
The Racing Line
Flagging and communications protocols
Trail Braking
Passing techniques
Race starts (taking the green)
Racing in the rain
and More!
Upon completion, you'll be on your way to leveling up to your SCCA Novice racing license.* If you already have a license, they will help you level up to the top step of the podium.
*SCCA Accreditation Pending
For more information or to sign up for this event, please go to: http://www.levelupracingschool.com